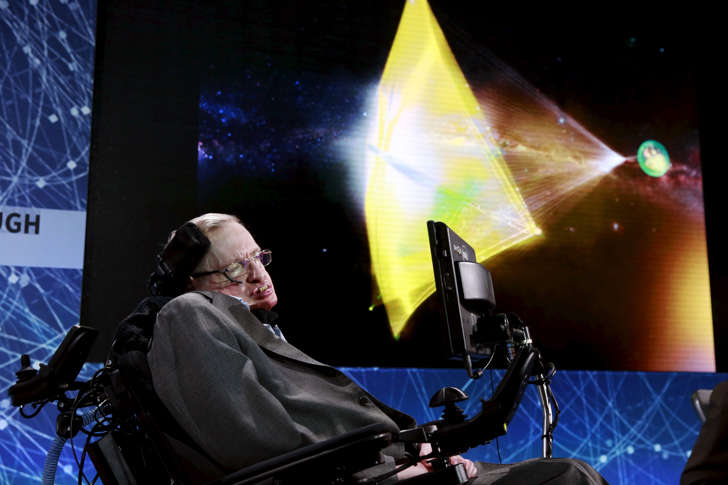 © Reuters Physicist Stephen Hawking sits on stage during an announcement of the Breakthrough Starshot initiative with investor Yuri Milner in New York April 12, 2016.
Stephen Hawking wants to use lasers to send a spaceship to nearby star
The Washington Post writes: When famed astrophysicist Stephen Hawking and Russian tech tycoon Yuri Milner announced a $100 million hunt for alien life last year, they pledged to inject a whole lot of funding and brain power into the search for extraterrestrial intelligence. At a news conference Tuesday, the duo announced another $100 million moonshot — or more accurately a starshot.
Breakthrough Starshot will fund the development of a light-propelled nanocraft — a spaceship just a few grams in size that would fly through space like ships in the sea, with sails pushed by the physical force of light particles instead of by wind. Its destination will be Alpha Centauri, our closest neighboring star system. Once there, it could try to sense habitable conditions — or even life — on the planets.
© Amazon.com, Inc. Amazon Kindle Oasis.
Amazon's new Kindle is sleek, sharp and pricey
Engadget writes: Amazon just pulled back the curtain on its new premium reader, the Kindle Oasis, and it's the slimmest and sleekest model the company has put out yet. Of course, with a price starting at $290 (£270), it's also one of the most expensive. As Amazon tells it, all the decisions were made with one goal in mind: to let the hardware itself almost disappear from view so that readers can lose themselves in their stories.